Italian restaurant Francesca al Mare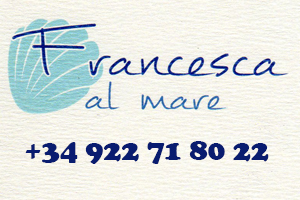 Homemade pasta restaurant Tenerife
"Francesca al mare" is a small restaurant located in the first line of the beach with a spectacular view of the North Atlantic Ocean shore and the island La Gomera. With a limited space of 38 persones this family business has an unlimited value for good quality service and freshness of the food it offers.

The starting point was the in the summer of 2014 when me and my fiancée Francesca had the ideea of changing our life perspective by opening a small business near the sea side. The idea took a concrete form many months after hard work, on the first day of Christmas.

The team of the restaurant was firstly formed out of me , Francesca and Maria . Maria worked almost 20 years in Romania in the restaurant of Francesca's parents .Having a massive background of the italian cuisine Maria not only puts knowledge in the process of food making but also passion and dedication and that is why we can certify the good taste of our plates.After almost a month from the opening, her husband Vasile joined our team ,helping his wife in the kitchen.

Even if we are not blood bounded family members we consider ousrselves a family because of the hardwork and understanding we had to go through in order to achieve this business.

Each one of us has a specific role in the business. I work in the marketing and the supply area also managing all the paperwork. Francesca is in the restaurant as a waitress and making sure that the other waiter,Enrico, serves well all of our customers .Maria and her husband Vasile make "the magic" in the kitchen.

Besides the team management we put high price on the service we give , for example the menu . The menu is simple and neat putting emphasis on home made pasta . We also have other selection of dishes ,for example: startes, risotto and sirloin steak . From time to time Maria , the chef , makes a plate of the day which is not in the menu.

Taking all things in consideration the main goal was achieved , that of having a restaurant which puts good service and freshness above all of the other marketing strategies of attracting new customers.
Information about Francesca al Mare, homemade pasta restaurant Tenerife
Contact phone
+34 665 38 05 82
Address
We are in Playa Fañabé
If you are confused, see the map below
Centro Comercial Lioral de Fañabé, 68 – Costa Adeje – Tenerife South
Opening times
Consult timetables
Open from 13 to 22 hours from tuesday to sunday
monday closed
Menú
Check our delicious dishes
Italian cuisine with homemade pasta
Mix salad
Tuna salad
Chicken salad
Carpaccio with rucola and parmesano
Codfish with potatoes
Grill fish mix with potatoes

Lasagna di carne
Gnocchi gorgonzola
Strozzapreti
Tagliatelle
Cappelletti
Ravioli
Baccala con patate

Delicious dishes of homemade pasta in Costa Adeje next to the sea!!!