Tu Pelu Hairdressing & Nails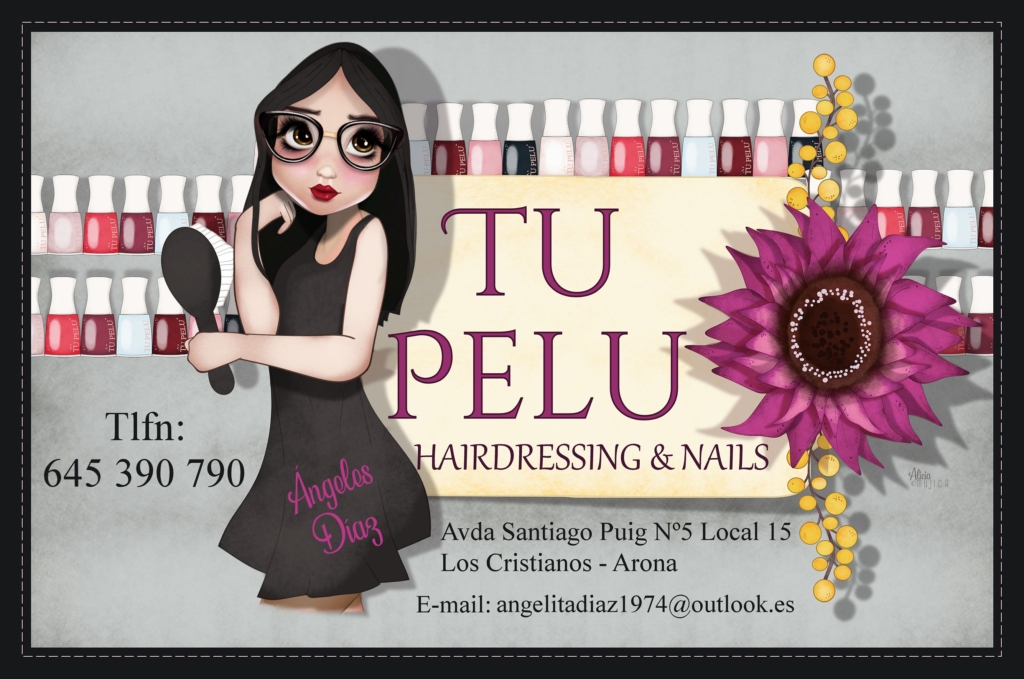 Hairdressers in Playa de Las Americas. Nails salon
Tu Pelu Hairdressing & Nails is salon of hairdresssers in Playa de Las Américas of authentic reference where you will be the real protagonist receiving renewed and current looks, as well as revolutionary aesthetic treatments.

Tu Pelu Hairdressing & Nails is am integral beauty center in Tenerife south that offers a wide range of treatments and services, including a woman an man hairdresser, Nail center, Waxing, Facils, Manicure and Pedicure.

The professinals at Tu Pelu Hairdressing & Nails wukk thoroughly study the properties of you hair to offer you the most appropriate treatments for your real needs. We are specialists in hairdressing and we have extensive knowledge that allow us to give the most appropriate advice. In short, we offer you whtat your hair needs and what best suits your look.

Qualified staff to assist you in Spanish and English.
Information about Tu Pelu Hairdressing & Nails
Phone
Tel. +34 645 39 07 90
Contact phone
+34 922 796 347
Address
Av. Santiago Puig, 5
If you have some problem, see the map below
Playa de Las Américas – Tenerife South
Schedule
Monday from 16 to 19 h, tuesday to friday from 10 to 19 h, saturday from 10 to 15 h
Make an appointment by phone
We will wait for you!
HAIRDRESSER
Styling(corte)
Hairstyle
Colouring
Hair bleaching
Highlights
Hair-up
Extensions
Barber
MANICURE
Remove polish
Reestructure the nail
Manicure men
Manicure women
Semipermanent
Acrylic or Gel removal
Acrílyc or Gel
Hands treatment
PEDICURE
Pedicue men
Pedicure women
Semipermanent
Pedicure with treatment
WAXING
Eyebrow
Upper lip
Underarm
Brazilian
Hollywood
1/2 Legs
Full leg
Arms
Back
Chest
Butocks
FACIALS
Deep cleaning
Personalized facials
Brow color
Eyelash tint
Soft makeup
Party makeup
Bridal makeup
Ampolla flash